Cute Illustrations, trendy customized designs and personalized gifts for babies and children. Be aware of the cuteness overload !
Tuesday, January 13, 2009
I twitt twittermom and Love Approns.
TwitterMom Appron
i twitt Appron
Love Appron
Ti Amo Appron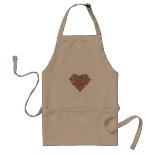 Love Valentine in ManyLanguages Appron
Love Never Fails Appron
Woodland Fox Collection Sweet Woodland Fox Baby Gifts and Baby Shower Invites  Perfect for a sweet woodland animal themed show...